Chiropractic Testimonials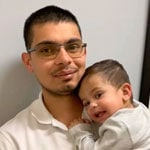 "Niam started getting adjusted at 11 months old. Before then he was having trouble sleeping through the night, eating, troubles with eczema/rashes and chronic ear infections. After his first adjustment he slept through the night which was something he had yet to do! His skin started clearing and his ear infections stopped. His mother even noticed that when she would change him he wasn't fusing anymore. She also got him to eat solid foods. We are so thankful to have had the chance to change this now playful and rambunctious infant's life. He is able to grow and prosper without nerve interference. If you haven't had your child checked, WHAT ARE YOU WAITING FOR?!? Years down the road they will definitely be thanking you!!"
- Anonymous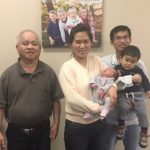 "Keeping 3 generations healthy through Chiropractic!"
- Anonymous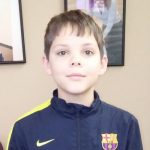 "Chiropractic has changed my life because I'm not taking 50% of my life having aching in my back. Also, I love it because my back and neck feel better. I just love it because everyone is so nice."
- K.C.
---
"I was a mess.
Before I met Dr. Pamer I experienced chronic migraine headaches, partial loss of vision, tinnitus (ringing) in both ears, sharp chest pain, tingling sensation and reduced strength in my arms and hands, pain and impaired range of motion in my neck, and inability to sleep comfortably due to pain and discomfort in my neck and back.
My health has been restored!
After two years of treatment at Pamer Family Chiropractic, I no longer suffer from these symptoms. The power that made my body healed my body, and Dr. Pamer expertly removed the interference."
- John C.
---
"My husband Ken had fallen through a ceiling three years prior to our visiting Dr. Pamer. He had received occasional chiropractic care, but it was only for pain remediation. Eventually, his subluxation turned into extreme carpal tunnel syndrome. He was experiencing shooting pains up both arms, he wore arm braces at night because the pain kept him awake. He lost strength in his hands; power tools would suddenly fly out of his hands. He was also experiencing shortness of breath and some chest pain. When we met Dr. Pamer, he was scheduled for carpal tunnel surgery on both hands. The hand surgeon said the muscle loss in both thumbs would be permanent and said he had severe carpal tunnel in both hands. Dr. Pamer challenged us to give her 6 months, she assured us that we would see improvement. The hand surgeon was very upset and insisted that it would have no effect whatsoever and in fact, the problem would only worsen. We chose to try chiropractic because we believe that God amazingly designed the body to heal itself if unimpeded. Carpal tunnel surgery is also often not effective, the symptoms come back and often get worse.
Ken and our entire family began regular chiropractic care. He specifically began going 3 times a week. We began noticing gradual improvements immediately! After one year we returned to the hand surgeon for follow-up. He declared that there were no symptoms of carpal tunnel syndrome in either hand anymore and his thumb muscles were much better but was oddly adamant that chiropractic had nothing to do with the change! Unbelievable!
Additionally, Ken stopped having shortness of breath, no more chest pains, his posture improved, and no more low back pain! The rest of us noticed changes as well. I had frequent neck pain and headaches and could feel a lump on the right side of my neck. The lump, headaches, and pain all disappeared! We have nine children and we noticed a huge improvement in our overall health. Much less sickness, cold, flu, etc. We all noticed an improvement in our overall health and well-being. We praise God for Dr. Pamer and her skilled care; chiropractic care has dramatically changed our lives for the better and I strongly believe has extended our lives. The earlier you can begin with children, the better for them. Don't wait for problems to manifest.
Before finding Dr. Pamer, my husband and I used chiropractic care only when we were in pain. Now chiropractic care is a vital part of our health and well-being. I always encourage people to get regular chiropractic care whether or not they are in pain. Usually, pain becomes present after much damage has already been done. We have been blessed patients since 2005 and have no plans to stop!"
- Anonymous
---
"When I first came into the office I was experiencing neck, shoulder and back pain. Before that I had that pain for a little over a year. I went to my family physician and they told me that I had a little bit of degeneration but that it was "normal with my age" and had also prescribed me this medicine that I would have to take constantly to feel better. I did not want to take medicine all the time, so I talked to my family physician again and she told me to try out chiropractic. After about 2-3 weeks of care I started feeling less pain and more energy to do things around the house. I also started having my children come in and get chiropractic care after talking with Dana on the importance of having them get care. I love them and want to see them stay healthy. I did not know the importance of a healthy spine, but I do now!"
- Reada
---
"Before I started coming into the office and getting treatment/being healed I was getting migraines every day. Yes everyday! These would affect my days at school and work. After a couple of days of seeing Dr. Pamer I could already tell a difference. In the two months I have been a patient I have NOT had a single migraine. I also have been feeling better mentally and physically. My sleep has improved. I am just very thankful I was introduced to Dr. Pamer through a lunch talk at my school because she has really made a difference in my life!"
- Anjie
---
"For years I've had issues with neck pain and migraines. The six months leading up to chiropractic care were very difficult because the migraines became a weekly occurrence, with many lasting 1-3 days. My job performance suffered and so did my overall life balance. Within a couple weeks of starting adjustments, the migraine were less frequent. After a year or so, I rarely have them at all. I'm so thankful for Dr. Pamer and her team!"
- R. R.
---
"I've been having painin my lower back, knees and hips since age 13.I also began having chronic pain in my ovaries due to ovarian cysts. After seeing orthopedic doctors, surgeons, doing physical therapy, MRI's and countless X-Rays, it was discovered I have Extreme Lumbar Lordosis, an extreme curve of the spine. Nothing could help my pain until I found Pamer Family Chiropractic at a health screening. I've been seeing Dr. Pamer for a few months now and I no longer have chronic pain in my ovaries. The pain in my lower back, knees, and hips have been greatly reduced to where I can sit for long periods of time and exercise without being in terrible pain afterward!"
- G. G.
---
"My husband and I have been seeing Dr. Pamer since the spring of 2007. We began the 12 week program to re-align the curve in our necks. We felt good about our progress and decided to continue adjustments, basically for health maintenance. Our visits have been about 2 to 3 times a month the last few years. Neither of us have had any major health complications and we are not on any medication. Our ages are 64 and 66. We know few people who are in this position. Dr. Pamer has taught us a few stretching exercises that we use to alleviate soreness or stiffness when we overuse our muscles with daily farm work. Through regular chiropracticadjustments and common sense in getting to know what works for our individual bodies, we enjoy great health and minimal discomfort. We are grateful to be medication free as well as mobile and functional. We highly recommend chiropractic care under Dr. Pamer for all families."
- Bill and Amy L.
---
"I started seeing Dr. Pamer when I'd had enough with the pain that I have lived through, daily. Before, I had constant migraines, my neck and back would freeze up when doing certain things, my hips would pop in and out of place constantly, and my shoulders and arms would go numb while I slept. In the short time that I have been seeing Dr. Pamer, I have rare, mild headaches. I sleep through the night. I can more freely without my neck and back freezing up or becoming stiff. I also go through the day without taking any medication for pain. I have loads of energy and I feel whole again because I have no pain."
- Cheyenne A.
---
"Dr. Pamer has changed my life. When I began treatment I had a lot wrong with me. I was constantly dealing with sinus infections and allergy problems. I took five pills a day for the sinus and allergy problems and today I take just one. This is like a miracle to me. I don't have sinus problems or infections anymore! I don't feel "old" anymore. Even though I just turned 70, I feel younger and more energetic than I have for probably 8 or 9 years. I have so much energy! Dr. Pamer and chiropractic care have given me a renewed and healthy life."
- Barb K.
---
"Our infant son had reflux and wheezing when he was born … that is GONE! Dr. Pamer truly cares about the health and well-being of each and every one of her patients, something we value a lot!"
- Jennifer B.
---
"I used to get upper respiratory infections frequently. I have not been sick in well over a year."
- Cheryl K.
---
"Since the end of August 2008, I had major numbness in my hands, fingers, feet, toes and back. I had appointments with my doctors and a neurologist, who preformed tests on my nerves. He said that my nerves were fine. Both of these doctors said that they didn't know what was causing all of the numbness and even major balance issues. I couldn't walk a straight line with my eyes open. I decided to try Dr. Pamer after I met her at a screening at the mall. It's the best thing I've done! I have been under Dr. Pamer's care and now I have all of the feeling back in my hands, fingers and feet! Thank you so much, Dr. Pamer! You are really a God send! I love ya!"
- M. L.
---
"My husband and I had not been able to have children. We had tried some fertility medicine and treatments unsuccessfully, though my doctor couldn't find anything wrong with us. A friend from church saw a video in Dr. Pamer's office that mentioned chiropractic care can sometimes help people who have dealt with infertility for years. and referred me to Dr. Pamer. Dr. Pamer explained that low back problems can be linked to infertility and began treating my husband and me. X-Rays showed that I did have some pretty serious issues and a reverse curve in my neck. My husband and I assumed that it would probably take awhile to possibly heal our fertility issues, but at least we would feel better and be generally healthier. Less that 2 Months after beginning treatment, much to our surprise, we discovered we are expecting our first baby!"
- M.B.
---
"Zane has a sensory disorder which falls under the Autism umbrella. Zane always has the need to feel pressure on his body. Night time was the worst-he always needed something on top of him bearing weight and still he would wake up crying for us to "sit on him". Zane would also have to have something in his hands all of the time so he could squeeze it. If he didn't, he would pinch himself or any other object within his reach. Occupational therapists told us we needed to address the symptoms by giving him outlets for his behavior, but that there was nothing that could be done to change the disorder. Zane started treatments with Dr. Pamer along with the rest of our family. Within 2 months into care, Zane started sleeping through the night. Three months into care he no longer needed to be weighted down to sleep. Now, just four months into care, he no longer needs to squeeze anything during the day. Gradually, our son is healing, and normal function is returning through chiropractic!"
- Z.S.
---
"I have had various treatments for arthritis since the mid 80's, including cortisone injections, celebrex, methotrexale and over the counter pain medications. I stopped methotrexate because 2 or 3 of the tests for Rhumatoid were negative and EBC dropped to 2.5 (normal range is 4.8-10.8). I stopped velebrex because of side effects. I have not needed any pain medications for arthritis in at least 6 months and am able to wear rings I hadn't been able to wear in at least 4 years! Swelling has diminished considerable! Also, I have been able to get off of blood pressure medicine! I have kept my appointments for adjustments and found that "Body by God" book very helpful, as I believe in treating the whole body as God intended-natural foods and exercise and living according to God's will and plan. I am amazed at how adjustments work!"
- J.P.
---
"My daughter went through 2 months of allergy symptoms in which 3 different medications didn't help. After 3 weeks of care ALL symptoms were gone. No runny nose, eyes, or cough. AMAZING! Best of all NO MEDS!"
- Z.S
---
"Before seeing Dr. Pamer I had headaches, muscle tension in myback and stiffness in the morning to the point where I couldn't sit up. I felt the affects at work and they also showed in my work performance. My life was affected in every way and I wasn't able to do many things that I had a desire to do. I took a lot of ibuprofen to help with the pain. Now I feel good, really even great! I have no complaints and the everyday pain that I once had is gone. I am definitley much healthier."
- T.R.
---
"I have had migraine headaches since the age of 15 when I got a concussion from a head to head collision playing football during high school PE Class. Over the years they have increased in both the frequency (once a month, three times a month, to three times a week) as well as the severity of my symptoms. I had vision loss, nausea, vomiting, tingling/numbness in my arms and legs, and overall excruciating throbbing pain. I have been prescribed at least three different migraine medications, had a neurology consult and a CAT scan. No answers resulted from any of this and none of the medications helped. I finally came across a Pamer Family Chiropractic booth at the mall and my husband insisted I get screened. We have now been under care for over 7 months and I have only had one migraine since we began treatment. Aside from the relief of my chronic migraines, I have also noticed a decrease of muscle tension in my neck and shoulders, lower back pain, numbness in legs, and experience more restful sleep. P.S. My family and I love all the staff at Pamer Chiropractic! They are so welcoming and friendly every time we meet, making the office atmosphere a huge relief in itself!"
- D.J.



Monday
7:30am - 11:00am
3:00pm - 6:00pm
---
Tuesday
3:00pm - 6:00pm
---
Wednesday
7:30am - 11:00am
3:00pm - 6:00pm
---
Thursday
3:00pm - 6:00pm
---
Friday
7:30am - 11:00am
---
Saturday & Sunday
Closed